Being on social media 24/7 for the last few years of my life, has been amazing. I've had so many amazing opportunities, gotten to work with brands I never thought I would be able to work it, travelled and of course, my fave & most worth it part- meeting & talking to amazing readers & viewers. Even if you're not a blogger/YouTuber, you have to admit that social media has its perks. I am truly grateful. But as with everything else, there's a dark side that most people never get to see.
P.S. is it ridiculously outrageous if I say to be sure you're following @itsroxyjames here, here and definitely here on snapchat where things are real AF.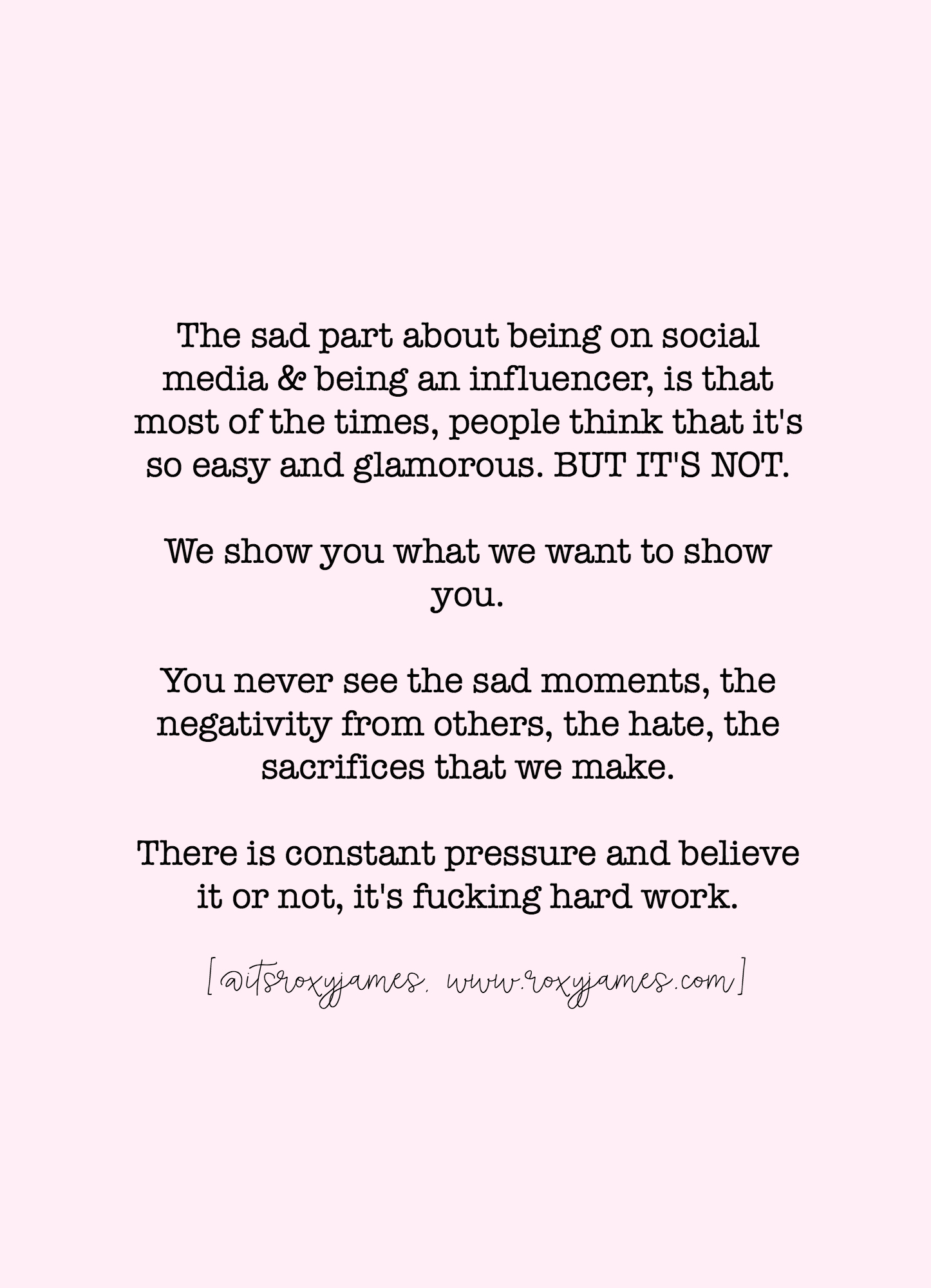 For the last 5 years of my life, I've been going going going and never really took a break from the "edited" side of my life. Andddd, when I say "edited" I mean like videos & pictures for YouTube & Instagram that are edited and obviously staged. I've been so conflicted in the last month, and for the first time ever in my social media career, I decided to just step back and take a break.
Having to constantly produce high quality content began to take a toll and I just wasn't feeling inspired recently. I actually didn't completely detoxify with social media though (snapcode to the right), because I was and still am super active on snapchat. The reason why is because snapchat isn't as rigid and I get to unapologetically be myself. I don't wear makeup if I don't feel like it, I wear what I want, I get to talk to my #snapchatfam, tell funny stories and just be so much more relaxed. There's barely, if nothing edited.
It has been fucking amazing not having to stress out about filming & editing YouTube videos or posting "perfect" instagram pictures daily. It's honestly like a whoosh of fresh air that I let into my life. I can breathe for the first time in a long time and I feel good. I truly truly do.
The sad part about being on social media & being an influencer, is that most of the times, people think that it's so easy and glamorous. BUT IT'S NOT. We show you what we want to show you. You never see the sad moments, the negativity from others, the hate, the sacrifices that we make. There is constant pressure and believe it or not, it's fucking hard work.
The behind the scenes of everything is a disaster compared to the final, edited product. It's not as easy as turning on a camera. A million other things happen in between that no one sees. AND editing takes anywhere from 4-10 hours.
For me, I do literally everything myself. I film, edit, stage, blog, take pictures, make printables, design my blog, come up with new content over and over, ever. single day. I would say it's time consuming, but the reality is that it's life consuming. If you have a normal job, you get to take breaks. You have free time. You have vacations.
But in my world, I have none of those things. I never take breaks, my free time is always spent working, and my vacations turn into work all the time. Trust me, I'm not complaining or bitching, but this is just the reality of what I've experienced.
Taking a social media detox has definitely been enlightening. I learnt so much things about myself and I honestly would recommend that everyone try it- whether you're a blogger/YouTuber or not. Even if it's one day, a week or a month – just try it and you'll see how much more relaxed you are.
Personally for me, this detox is definitely temporary and wasn't has rigid as other people who take social media breaks. I still opened my instagram, replied to a few comments, peeped at my channel- things like that. I know of instances where people just delete or deactivate everything and never even touch an app. I just didn't feel so compelled to do that #LOL
Even though I'm not posting anything new, it doesn't mean that I'm not still working- because I am. I'm still occupied with planning new content- yes, my planner is right next to me on a page of notes. I also live in the gym- like seriously, snapchat knows I'm there 5 or more times a week and I am so happy. I also went on actual dates with my guy instead of staying in on date night and pigging out on pizza and Chinese food- which I also LOVE. But to dress up and actually date him without having to worry about editing a video #SWOONS
I just needed this time for myself and just recharge. I'm still not entirely sure when I'll start back posting edited content as yet, but I know that I'll start back when it feels right to me and I'm ready.
Questions? Ask here.